For mama's wishing to reduce nipple confusion and bottle refusal, meet mōmi, the new-to-market baby bottle that is engineered like a breast, not just shaped like one!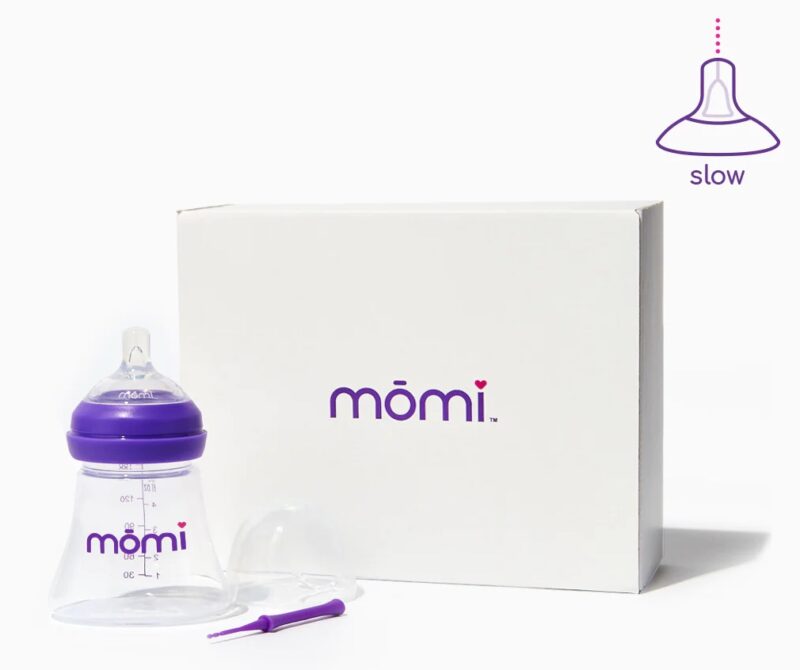 What is mōmi?
Momtech Inc., creator of the mōmi bottle, is a Charlotte, North Carolina-based, revolutionary baby bottle brand empowering nursing moms to feed their infants with less fear of bottle-related complications. mōmi's bottles are the only bottles designed to actually work like a breast instead of just look and feel like one.
How does it work?
While the hollow construction of conventional bottle nipples does not stop milk flow when compressed, mōmi bottles are precision engineered with a patented compression shut-off milk duct. Designed to mimic a mother's body, the extra soft silicone nipple stretches and squeezes like natural tissue, enabling babies to regulate milk flow with their tongue in the same suck-swallow-breathe cycle learned with natural breastfeeding. Not only does this make the transition between breast to bottle easier, but it also allows parents who choose bottle feeding avoid colic and gas issues.
How do I get one?
mōmi's five-ounce bottles are BPA-free and available in both glass and plastic with three different nipple duct diameters for a slow, medium or fast flow rate. The simple parts ensure quick, easy assembly and the starter sets include a nipple cleaning tool for caretakers' convenience as well.
The 1-bottle starter set retails for $49 in plastic or $54 in glass and includes 1 five-ounce bottle, 1 bottle collar, 1 bottle cap, 3 mōmi nipples (slow, medium and fast flows), and 1 nipple cleaning tool. The 3-bottle starter set retails for $79 in plastic or $89 in glass and includes 3 five-ounce bottles, 3 bottle collars, 3 bottle caps, 3 mōmi nipples (slow, medium and fast flows), 3 nipple cleaning tools and 3 milk storage caps.

Available on mōmi.baby, the mōmi bottle is perfect for any new mom!