August-September
1. Britannica All New Kids' Encyclopedia
By What on Earth Books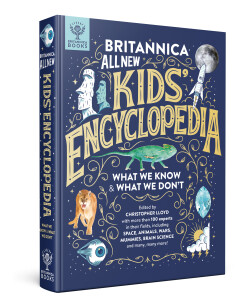 Launching on October 1, an amazing 416-page of mind-boggling facts, data, and visuals provided by more than 100 world experts, a compendium of knowledge to satisfy all curious minds! Packed full of incredible facts you can trust, this All-New Kids' Encyclopedia celebrates Britannica's return to printed books. Ages 8+
2. Legends from Mom's Closet
By Sasha Olsen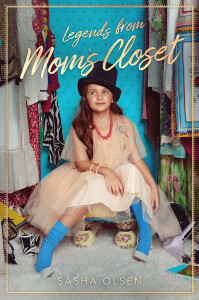 Sasha writes her own story, Legends from Mom's Closet is a diary about an 11 years old girl growing in Bal Harbour, Florida. She spent her summer indoors filled with learning and fun! In this book, she shares her experiences meeting legendary women by reading their stories and dressing up as them. One day, curiosity got the best of Sasha, and snuck into her mom's closet, borrowed her clothes, and spent a day in these legends' shoes.
3. When the World Feels Like a Scary Place
By Dr. Abigail Gewirtz

Essential Conversations for Anxious Parents and Worried Kids. An urgent and necessary book that focuses on big ideas and global stressors, such as how to talk to your child about everything from climate change to active shooter drills. Not only are these tough conversations but they're made extra difficult given parents' own anxieties surrounding these issues. Parents.
4. The Constitution Decoded: A Guide to the Document That Shapes Our Nation
By Katie Kennedy
The book decodes the original document with a direct translation of the text, dissecting every word, phrase, and idea. Packed with historical context and figures, vocabulary, anecdotes, and trivia, this book is an accessible yet richly layered work that belongs in every family library. Ages 10 to 14.
5. The Screaming Hairy Armadillo
by Steve and Matthew Murrie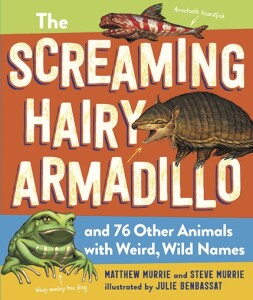 A quirky compendium of curious animal species with bizarre names. With an informative science-based curriculum, broken down into different categorized chapters, like "Magical Names," "Delicious Names," and "Just-Plain-Weird Names," readers will discover how the world's most oddly coined creatures were termed through their curious habits, peculiar appearances, and extraordinary abilities. Ages 7 to 10.
6. CJ's Big Moment  
By C.J. Watson
Former NBA player and author, C.J. Watson will be releasing his 3rd book from his children's book series called "CJ's Big Moment".
CJ is the captain of his basketball team and everyone looks up to him, well everyone except the school bully. When one of CJ's teammates keeps getting picked on, it's up to CJ to come up with a solution and be the leader. Will CJ help his friend and stand up to the bully once and for all? Ages up to 12
7. The Kid's Awesome Activity Wall Calendar 2021
By Mike Lowery with workman calendars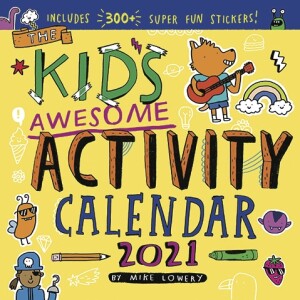 Sparks creativity and keeps kids' minds engaged, all year long. Each seasonal, colorfully illustrated spread is jam-packed with interactive entertainment, including offbeat prompts to get the mental wheels turning, lively games, and cool crafts. It also includes over 300 stickers for decorating pages and marking events!
8. Audubon Little Owls Mini Wall Calendar 2021
By National Audubon Society with workman calendars
With their round eyes, distinctive hooting calls, and inscrutable expressions, owls emanate wisdom and mystique. A fluffy trio of Boreal Owls lined up on a branch. A majestic, speckle-feathered Austral Pygmy-Owl.
9. I'm feeling School Bus Yellow!
By Tina Gallo

A Colorful Book about School. Celebrate the back-to-school season with fantastic Crayola colors in this adorable board book that's shaped like a school bus with foil on the cover! Ages 2 to 5.