Ricotta-Lemon Olive Oil Cake
By Carlos Sarmiento
The ultimate expression of love is food, and what better way to profess this sense of care than by cooking something unforgettable for your loved ones. Valentine's Day is forever engraved in our culture with something sweet, let's not break tradition. Instead let's elevate this holiday by making it an all-family affair.
Since cooking unites us all, why not bring your family together at the kitchen and make a new sweet dish where everyone can be the pâtissier, the pastry chef?
 Torta di Ricotta e Limone is an Italian-inspired lemon cake that has two surprising yet satisfying ingredients: ricotta cheese and olive oil. Yes, olive oil. Not only is olive oil healthy but it give this light cake a wonderfully subtle fresh flavor. The best thing about this cake, aside from its aromatic flavors, is that it is amazingly easy to prepare and it bakes quickly.
Let's get cooking!
Ingredients:
Cake:
• 1 ½ cups of ricotta
• 2/3 cup of extra Virgin olive oil
• 1 ½ cups of sugar
• zest of 2 lemons
• Juice of 2 lemons
• 3 eggs
• 1 ½ cups all-purpose flour
• 3/4 cup of almond meal/flour
• 1 tbl baking powder
• 1/3 tsp soda
Cake decoration:
• 1/3 cup of powder sugar (enough to cover the top of the cake)
• 1 small lemon cut in thin half or quarter round slices
• 1 small bunch of fresh small mint leaves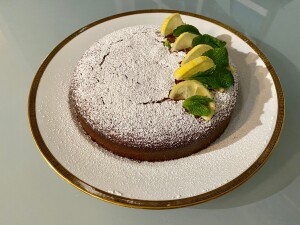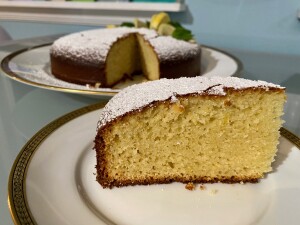 Directions:
• Preheat oven to 350° F.
• In a large mixing bowl whisk the ricotta, olive oil, sugar, and zest until completely combined.
• Next, add in one egg at a time until they are completely mixed in.
• In a separate large bowl whisk together the flour, almond meal baking powder, and baking soda until combined. Whisk well to ensure and clumps are removed.
• Transfer the dry ingredients into your wet ingredients and whisk together just until everything is combined. Add lemon juice. Mix well.
• Pour the batter into a 9″ spring form pan and bake for 60-70 minutes or until browned on top and firm in the center.
• Place the cake onto a cooling rack and let it cool to room temperature (could take up to two hours) before decorating and serving.
Cake decoration:
• Once cake has completely cooled off, dust generously with powder sugar.
• On one side of the top of the cake, arrange lemon halves or quarters, layering them up and inserting fresh mint leaves in between.
Photo by Carlos Sarmiento
Carlos Sarmiento is an award-winning filmmaker & public relations professional as well as a food & wine writer/contributor via his venture, Carlos' Food & Wine.
 For more recipes and wine pairings ideas, visit and subscribe at: www.carlos-food-wine.com