Fireworks, family and food are what the Fourth of July is all about. Summer days are often spent with family and friends, soaking in the sun's rays and enjoying outdoor living with warm-weather activities. Complement this year's summertime excitement with food that matches your enthusiasm for the season.
Red, White and Blue Cake
Prep time: 25 minutes
Cook time: 30 minutes
Serving: 12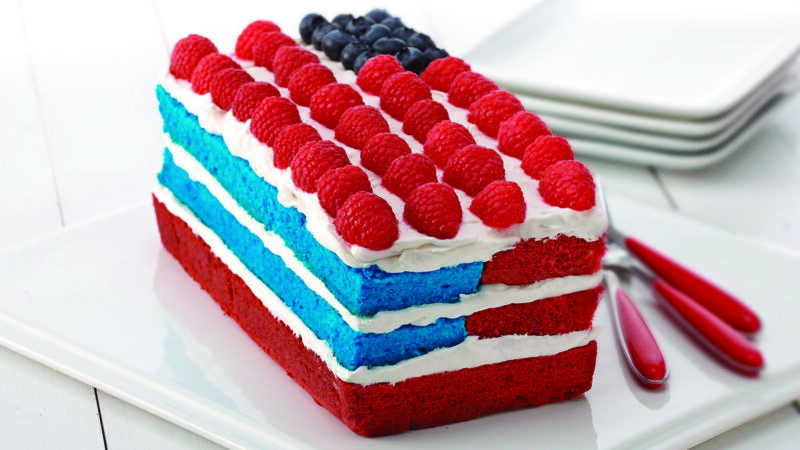 • 1 package (2-layer size) white cake mix
• 2 teaspoons McCormick Pure Vanilla Extract
• 1/2 teaspoon Blue McCormick Assorted Neon Food Colors & Egg Dye
• 2 tablespoons unsweetened cocoa powder
• 2 teaspoons McCormick Red Food Color nonstick spray
• 1 container (16 ounces) white frosting
• 1 cup raspberries
• 1/2 cup blueberries

Heat oven to 350 F. 
Prepare cake mix as directed on package, adding vanilla. Transfer 1 1/2 cups batter to small bowl and tint with neon blue food color. Tint remaining batter red by adding cocoa powder and red food color. Pour each color batter into separate 9-by-5-inch loaf pans sprayed with nonstick cooking spray.

Bake blue-tinted cake 20-25 minutes; red-tinted cake 30-35 minutes. Cool cakes in pans 10 minutes. Remove from pans; cool completely.

Trim cakes to remove rounded tops and edges. Slice red cake in half horizontally to form two thin layers. Place one layer on platter. Slice remaining red cake layer in half lengthwise. Slice blue cake in half lengthwise. (Blue and red cakes should be same dimensions.)

Watermelon Berry Frozen Pops
Servings: 8

• 6 cups watermelon
• 1 cup blueberries, divided
• 1 cup raspberries, divided
• 3 tablespoons honey

In blender, blend watermelon, 1/2 cup blueberries, 1/2 cup raspberries and honey until smooth. Press through fine mesh strainer to remove pulp and seeds.

Fill ice pop molds 3/4 full with liquid. Add remaining whole blueberries and raspberries to molds. Insert sticks and freeze at least 4 hours, or until completely frozen.
Find more recipes and ideas to fire up your Fourth of July at www.Culinary.net.