Sing, Dance, Learn, and Play with South Florida Music
South Florida Music offers age and developmentally appropriate music classes, birth to age 9, using the internationally renowned Musikgarten curriculum. All instructors are highly trained specialists in early childhood music education. Their knowledge and background will ensure that you and your child have an exceptional educational experience while enjoying time together in a stress-free, playful environment. A parent/ caregiver attends class with the child at all levels of the program, allowing you to build bonds while developing a strong musical foundation and strengthening all developmental domains. Explore South Florida Music's curriculum options below!
Music for Babies (Birth – Walking): Play musically with your baby through bouncing and rocking songs, wiggle and peek-a-boo games, dancing, moving, and singing. Activities are designed to increase your child's curiosity about music, develop listening skills, a sense of beat, and establish a foundation for singing and musical thought.
Music for Toddlers (Walking – 3rd Birthday): Build a strong bond with your toddler through singing, rhymes, moving, dancing, listening, and playing instruments. A mix of stationary and mobile activities will occur, making this level the best choice for children once they begin walking. Activities bridge the natural connection between music and movement while enhancing your child's musical aptitude, listening abilities, and overall potential. English and bilingual classes available!
Musical Cycle of Seasons (3-Year-Olds): Celebrate your child's love of nature and growing independence through activities centered around the seasons of the year. Classes are designed to build attention and self-expression and include singing, moving, focused listening, musical games, exploring instruments, creative movement, and storytelling. In some activities, children are encouraged to work independently from their parents/caregivers. Furthermore, this level begins the foundation of musical literacy by applying musical language to rhythmic and tonal patterns.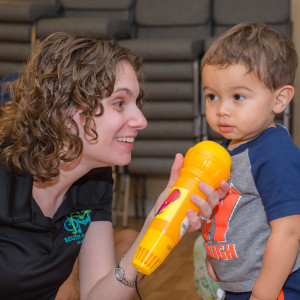 Music Makers (4 and 5-Year-Olds): Music Makers includes singing, creative and structured movement, playing instruments, ear training, and a sound approach to music literacy that builds symbolic thinking, concentration, memory, and self-expression. During this two year curriculum, children will have the opportunity to play their first melodic instrument, the glockenspiel. They also begin to read and write simple musical patterns and melodies. The parent/caregiver remains an active participant in the class while also supporting the child's home practice.
Music at the Piano (Ages 6+): Music At the Piano is a unique group method for young beginners based on an aural approach to musical literacy that provides a natural pathway to reading. This curriculum capitalizes on the child's love of group music-making to provide an introduction to piano playing, along with singing, composing, improvisation, transposition, and reading music.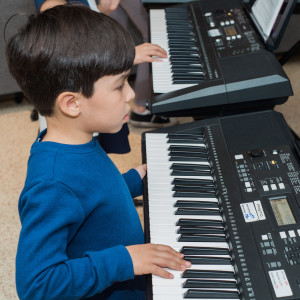 South Florida Music's fall semester begins in September. To learn more visit  southfloridamusic.org or call 305.930.2755