A new permanent exhibition at Frost Science Museum
With science, the possibilities are endless. But where will our curiosity lead? Step into the shoes of researchers, explorers and innovators unlocking everything from the mysteries of the universe to those inside our bodies as you explore Power of Science, the newest permanent exhibition at the Phillip and Patricia Frost Museum of Science.

Photo Credit Squint/Opera
Our journey to the edge of the known universe begins with science and this exhibition, developed in partnership with the University of Miami, will have you diving into the groundbreaking research and discoveries by scientists, including those from the University of Miami, highlighted through four scientific frontiers: Our Oceans, Our Environment, Our Bodies, and Our Universe. Cutting-edge exhibits, rare specimens, an interactive floor, and a showcase of collection pieces and scientific instruments used across various scientific fields bring these frontiers to life.
As you navigate the exhibition, you'll meet pioneering scientists, such as Dmitri Mendeleev, inventor of the periodic table, and deep ocean explorers like Jacques Piccard and Dr. Sylvia Earle. You can even take a selfie with a replica of Dr. Earle's famous ocean-diving JIM suit!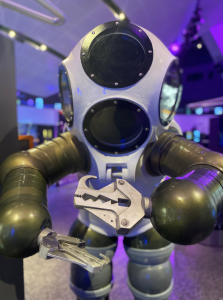 Interactive exhibits and games will challenge you to think like a scientist and explore solutions to issues such as major storms and threats to coral reefs. You could try your hand at Hurricane Hindsight, an interactive, multiplayer game for all ages centered around fictional Hurricane Sebastian where you must decide whether to stay or evacuate, as a stream of information comes in from multiple sources and the risks constantly change. Or interact with Wild Weather, an augmented reality experience inspired by TV meteorologists that places you in the middle of a Miami hurricane.
How about testing your skills at Build Your Own Coastline, where you compete to protect a stretch of the Miami coastline from a major storm using three different elements: mangroves, sea walls, and palm trees, within a fixed budget. The person with winning combinations over three rounds wins!
Curious to see how corals are impacted by changing conditions in our oceans? You can digitally interact with a rare, preserved Elkhorn Coral specimen by changing parameters in the ocean, such as temperature and nutrients, to see how this affects the coral's health as well as the ecosystem behind it.
You can also experiment with the coolest periodic table you've come across, featuring a three-screen digital interactive that incorporates information about our oceans, bodies and universe. Select multiple objects such as the Sun and the Human Body and see overlapping elements in common or partner up with someone to combine elements and watch their chemical reactions unfold as a 3D animation on the big screen.
Be inspired to start your scientific adventure by visiting Power of Science. Learn more at www.frostscience.org/powerofscience. 
 Admission is included with all museum admission tickets. The Phillip and Patricia Frost Museum of Science is safely welcoming back visitors daily from 9:30 a.m. – 6:00 p.m. The health of our guests and staff is our number one priority. To book tickets and to learn about our commitment to safety, please visit frostscience.org.