Westgate Spring Family Fun!
Spring is the best season to travel to many of South Florida's amazing and most popular destinations, for families choosing the perfect spring break destination and looking to spend a week enjoying life in the sunshine,

Westgate Cocoa Beach Resort

will get you all of the fun that your family deserves!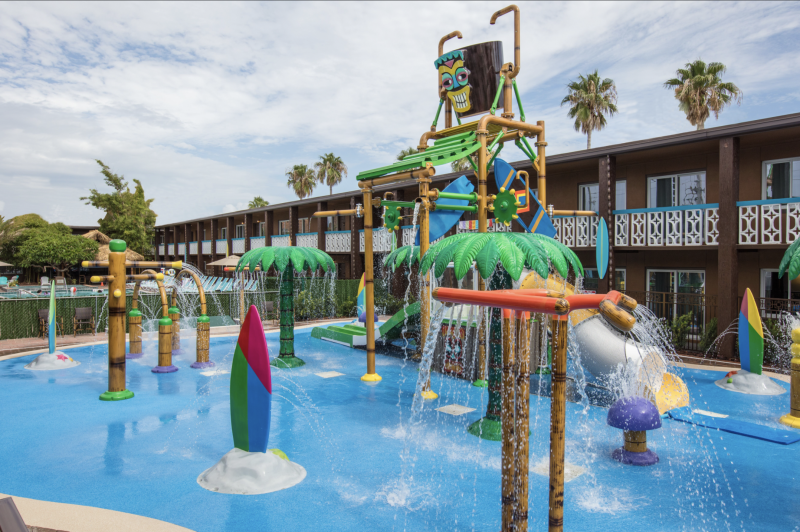 Conveniently located just an hour east of Orlando, Westgate Cocoa Beach Resort offers a relaxing, beachside retreat for travelers to bask in the sun on Florida's Space Coast. Designed with families in mind, this one-of-a-kind, luxury Cocoa Beach hotel features spacious two-bedroom luxury suites fit for the whole family, in addition to endless exciting activities to be found on-property – which include the Wakulla Falls Water Park, Makua Lanai Adult Relaxation Zone, private beach access, and the historic Westgate Cocoa Beach Pier. Not to mention, the resort is located just a few miles away from the Kennedy Space Center, allowing space enthused travelers a convenient location to kick-back while enjoying all that Florida's Space Coast has to offer. Tourists to the Sunshine State often find Westgate Cocoa Beach Resort to be the ultimate Florida beach vacation as it is the perfect location to plan a day trip to one of Orlando's famous theme parks – all while staying beachfront on the Atlantic Ocean.
Looking for Resorts With Water Parks for your kiddos?
Wakulla Falls Water Park and Makua Lanai Adult Relaxation Zone
After a morning at the beach, guests can head back to the resort for a great time at the Wakulla Falls Water Park and the Makua Lanai Adult Relaxation Zone. While the kids are spending their excess energy at the splash pad and mini water slides, the adults can decompress by enjoying a cocktail in the Adult Relaxation Zone or by floating their cares away down the relaxing Lazy River. The Lazy River is a 335-foot loop through an endlessly tranquil and tropical landscape – providing a refreshing and serene escape. The park area also features a kid's activity center with fun games for the little ones to enjoy such as giant checkers, Jenga and Connect Four.
The Aloha Tiki Bar & Café can also be found in this area of the resort and features tasty lunch and snack options such as burgers, sandwiches, and salads. Delicious cocktail options to sip on are also available – with the Rum Runner in a souvenir Tiki cup being a guest favorite.
Westgate Iconic Cocoa Beach Pier

A historic landmark on Florida's Space Coast, the

Westgate Cocoa Beach Pier

, with a recently $4 millions renovation is home to restaurants, bars, shops and live music. The renovated world-famous pier stretches 800 feet over the Atlantic Ocean, and features some of the best dishes and cocktails along the East Coast. Guests can access the pier by the Cocoa Beach Pier Trolley, which is free of charge for Westgate Cocoa Beach Resort guests.
Signature Two-Bedroom Luxury Suites
As one of Cocoa Beach's premier luxury resorts, Westgate Cocoa Beach Resort features all-new renovated two-bedroom suites. These luxury suites were renovated with families in mind and can accommodate up to 12 people. Each suite features two spacious bedrooms and two bathrooms, a full-sized kitchen and dining area, a living room and a patio or deck. These suites make for a great vacation along the Space Coast for the whole family to enjoy!
      
Private Beach Access
When it comes to relaxing beachside or exploring the Atlantic coastline, Westgate has you covered for an exceptional time. Guests of the resort can access the private beach through the boardwalk area. Every day, the resort offers wonderful beachside concierge and cabana services, 

for those beachgoers looking to lounge in the Florida sun and not move a muscle – 

which includes comfortable chairs with umbrellas, Bluetooth speakers, ice chests, and towels provided by staff. 

As for the adventure seekers in the family, guests can enjoy complimentary boogie
For more information and to book the Westgate Resort Cocoa Beach Pier, visit 

www.CocoaBeachPier.com

.
Westgate Resorts is the largest privately held timeshare company in the world and one of the largest resort developers in the United States. featuring more than 14,000 luxury villas and hotel rooms in popular vacation destinations. 
For more information about Westgate Resorts please visit 
www.westgateresorts.com
.