Spring is such an exciting time of year. The weather gets warmer, the days get longer, and summer fun is closer than ever. But with busy schedules and distracting screens, it's easy to let the season slip by. It's no secret that getting outside is key to making the most of spring, but it's also a great way to bond as a family. Learning a new outdoor activity together with your kids can create lasting memories.
Written by Stephanie Vatalaro
One of my favorite ways to enjoy family time is with a traditional pastime that's making a comeback — fishing. Growing up in Florida, I've always loved the water. Now that I'm a mom, I love sharing the activity with my daughter, Isla. But even if you're a first-timer, fishing is an easy, kid-friendly activity that you can bond over with just a few beginner steps.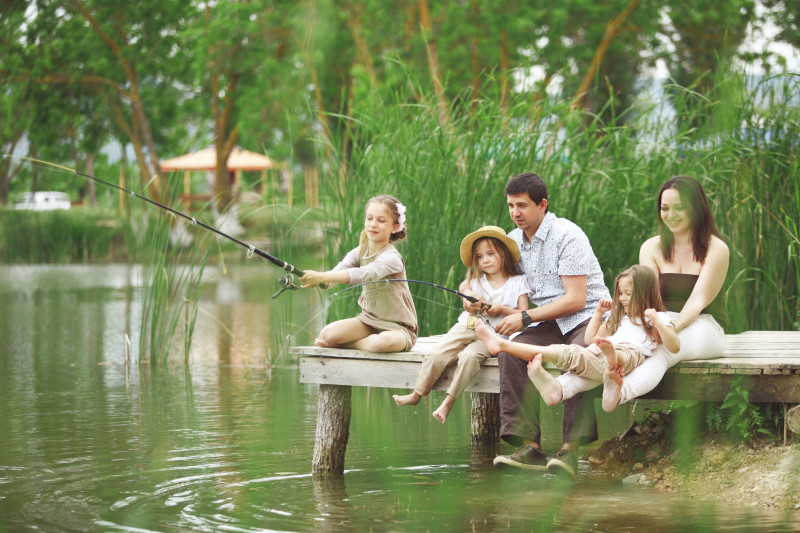 Step 1: Find a fishing spot.
Going fishing doesn't mean you have to pack up for a long drive far away from home. Places to fish are closer than you think, even in the city. Parks and canals are great locations for your first fishing excursion because they're close to home and often have other attractions like walking trails. Tamiami Canal, located right in Miami, is a popular destination for new and experienced anglers alike.
You can also find tons of places to fish throughout Florida with an interactive map at www.TakeMeFishing.org. When selecting a family-friendly fishing spot, look for amenities like play areas, easy parking and picnic facilities as well as safe water and boat access.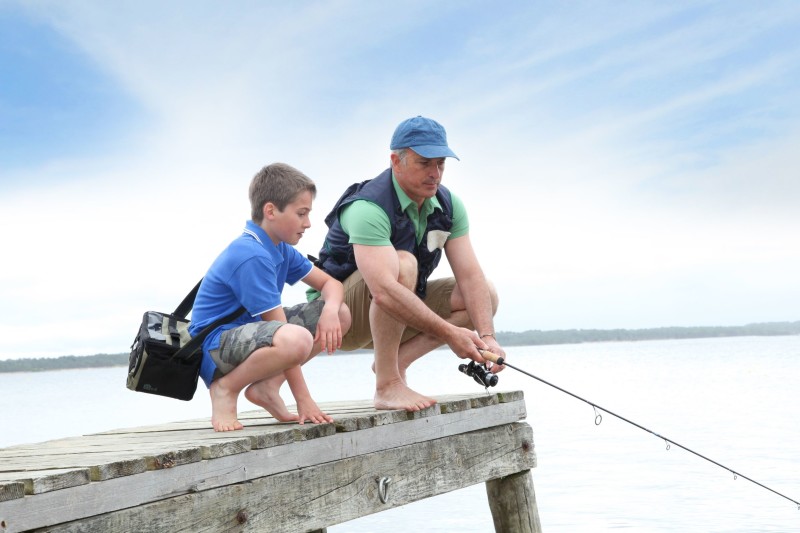 Step 2: Gather your bait and tackle.
There are two primary types of bait: natural and artificial. It's up to you which to use, although beginners often have better luck with natural bait, as it tends to be a better fish attractant. Earthworms are a great choice because they're easy to put on a hook and don't require any sophisticated technique to lure a bite.
When it comes to gear, simple is best for newbies. To help limit line tangles, choose a kid-friendly starter rod-and-reel combo designed for smaller hands. Some other essentials you'll need include fishing line, hooks, bobbers, sinkers and bait. Pro tip: To keep kids engaged, bring snacks and games to pull out during downtime.
Step 3: Rig your line and cast.
Rigs are the combination of hooks, sinkers, bobbers and other add-ons to your fishing line. To begin rigging, tie a hook on the end of your line. One easy knot for first-timers is called the improved clinch knot. Then, pinch one or two small split shot sinkers to your main line six to 12 inches from the hook. Finally, clip a circle bobber to the rig three to four feet above the hook. Detailed instructions are available on www.TakeMeFishing.org.
When you're ready to cast, unlock your line and hold it with your fingers. Then, swing your rod in an arc, letting go of the line at the peak. If you feel a fish tugging, point your rod skyward. Begin reeling in your catch by slowly lowering your rod until it reaches a 45-degree angle. Return your rod to a vertical position and repeat the process as needed.
With these simple steps, you've already got the basics for a family fishing adventure. Before you hit the water, remember the most important item an angler can carry is their fishing license. That's because fishing license sales provide critical funding for the conservation programs that protect our waterways. You can get your license anytime at www.TakeMeFishing.org and learn even more beginner tips. Give it a shot, and you might just find you're…hooked!
About Stephanie

About Stephanie
A lifelong angler, Stephanie Vatalaro works to introduce newcomers to the water as senior vice president of marketing & communications for the Recreational Boating & Fishing Foundation and its Take Me Fishing initiative. Outside of work, you're likely to find her fishing and boating with her family.
About the Recreational Boating & Fishing Foundation (RBFF)
RBFF is a nonprofit organization whose mission is to increase participation in recreational fishing and boating, thereby protecting and restoring the nation's aquatic natural resources. The organization's Take Me Fishing™ initiative is designed to help boaters and anglers of all ages and experience levels learn, plan and equip for a day on the water. Learn more at 

www.TakeMeFishing.org

.