Antonio Cabrear Dreams Come True
This fall Kiddos Magazine had the honor to interview Antonio Cabrera, one of the former official designers of the White House.
Written by: Estefania Arosemena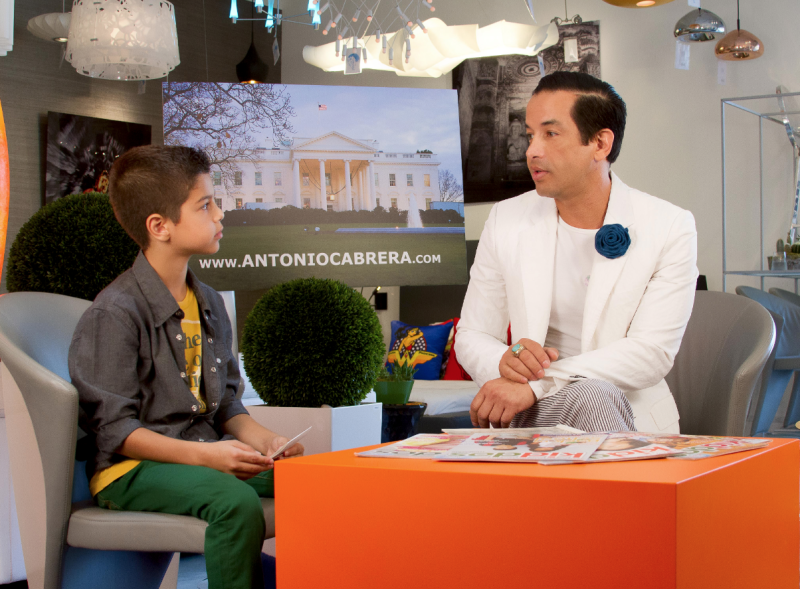 With a long international career, Antonio has become an inspiration for many to believe in the beauty of their dreams and always think with a creative mind. His professional portfolio went straight into the hands of the first lady, Michelle Obama, who trusted his masterful talents in all of her Christmas decorations for the most prominent home in America.
Antonio's fascinating repertoire includes interior design, floral design and over-the-top decorations. As a perfect ambassador of perseverance and hard work, Antonio wants to share his inspiration with our kiddos to always believe in everything they create.  Whether you are working with new or re-used materials, making wonderful creations is always possible. It all came to him from a very young age and the key to his success is to always believe in yourself.
The Kiddos Kid Reporter: Who was your inspiration to start your professional career?
Antonio Cabrera

: I believe that my inspiration was my regular life next to my mother and my father… when you spend time with your family and friends, driving to school, going on vacations to the beach, or any other trip, you are able to see the beauty of the trees, the natural beauty of the ocean, the beauty of the
mountains, the mixed flowers and even how beautiful and large the sky is. I learned from the "Simple life" that my parents led, especially from my mother. She was always creating, working and very grateful for the beauty of flowers and plants: A simply blessed life. My inspiration was to create something beautiful with my hands that also looked natural. I was able to practice in my school and from there, I discovered my own natural talents that eventually developed into my professional career. Even now, through the time, I keep admiring the beauty of nature every day.
The Kiddos Kid Reporter:
For two consecutive years, Michelle Obama invited you to decorate the White House's largest space -Can you share with Kiddos Magazine this experience?
 Antonio Cabrera: For me it is a great honor to share my experience with all the children and Kiddos Magazine.
The First Lady, Michelle Obama, is a very nice, professional and humble person, as is everyone inside The White House. Each person was very professional. For me this was a big honor because I was representing all the Latin-American community and the american dream as a professional.
I met beautiful people from different states in the country. We had children, teenagers, grandfathers, single and married people. Everyone was very special to me and had a special mission to contribute to The White House. Each one had a great history related to the Unites States.  There were people of all different ages. Together, we were able to create beautiful pieces for the Christmas Decorations and the Christmas tree.But I think the most special thing about my experience with The White House was that all the decorations were handmade – created and manufactured by us.
The Kiddos Kid Reporter:  What advice would you give to the kids that want to learn more about working with their creativity and hands?
Antonio Cabrera:

 The best advice: Believe in Yourself! You always have to believe that whatever you create is going to be beautiful because it's your creation.
It is always good to experiment with different materials, colors, and textures. And you don't always have to start with new materials. Recycle and re-use things for your creations. I remember when I was growing up, my parents had little money to buy things, but I was very happy to create and invent new things with recycled materials. The more you can recycle the more
creative you will be. Don't Rush It and Don't Give Up! Spend the time that you need to finish each and every project. I believe that at some point, my creativity is what brought me to The White House. I was able to create beautiful new designs by recycling with materials that were already there.
The Kiddos Kid Reporter: Antonio will teach our Kiddos how to create in 3 steps a project to make at home and decorate this fall season.
Antonio Cabrera:
Project Name:  DÉCOR CARD
Seating cards for the Thanksgiving table that can also be a holiday card to give to someone special or to decorate your tree:
Use recycling materials from your house related with the school or your home (ex: coins, buttons, flowers, stickers, paper, crayons).

Cut the card in any size you want and paste and glue the décor materials. creating your piece of art on the front of the card, then with crayons write down the name of the person that will be seating down in the table.

Creating your piece of art on the front of the card, then with crayons write down the name of the person that will be seating down in the table. Also you can add a ribbon to the card and make a nice little bow.

The Kiddos Kid Reporter:  Could you describe Antonio Cabrera in 3 words?
Antonio Cabrera:

  "BELIEVER IN GOD"
Credits:
The Kiddos Kid Reporter Clothing: Peekkids Village of Miracle Park
Photography: GMN Artistic by Ginelle Lago
Media Producer: Jacobo Pares Pro4Design
Location: Planet Lighting