Alberto Carvalho is an inspirational educator and current Superintendent of Miami-Dade County Public Schools.
Written by: Estefania Arosemena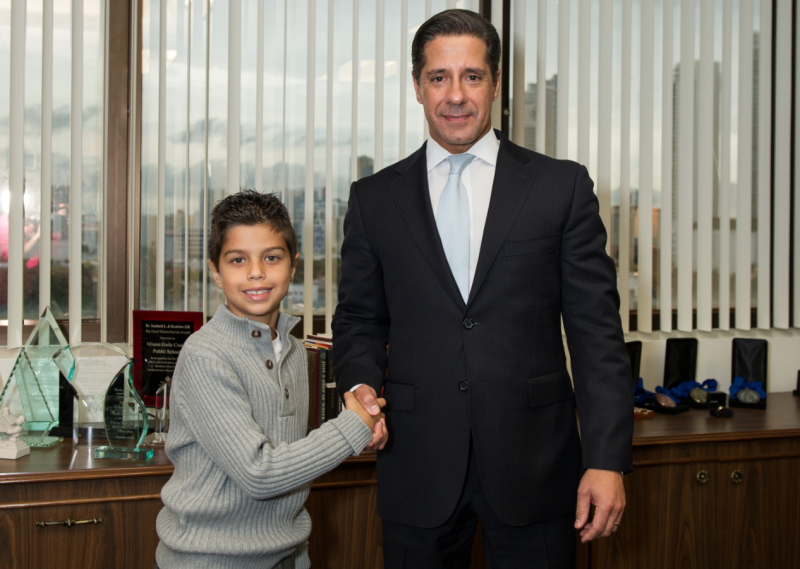 Our Kiddos Reporter had the fantastic opportunity to learn more about not only Florida's 2014 Superintendent of the Year, but also an admirable human being who has considerably improved the school system in our district. Specialized magnet programs, in-classroom new technologies, and parents coaching guidance are only a few of the transformations Carvalho has fought for in his quest to elevate the educational system in Miami Dade. He believes that one of life's most important investments is the power of education and everybody should respect the value that exists behind it. Recently selected National Superintendent of the Year by AASA, Carvalho shared with us some of his personal experiences, aspirations, and influential supporters behind his utmost purpose as an educational leader, teacher, and parent.
The Kiddos Kid Reporter: What have been some of the most successful learning initiatives you implemented at Miami-Dade schools this year?
Superintendent Alberto Carvalho:
Some of the most important initiatives that I am proud of as a Superintendent, teacher, and parent have to do with elements that have improved the school system, for example,
Choice:
creating new magnet programs, allowing parents and students like you to choose the type of program that you want to study. Therefore, if you like law enforcement, or medicine, or science, or performing arts, or have any other vocation preference we'll create programs like that for you. The second one is the 
Investment in Technology,
ensuring that all teachers and students have access to laptop computers, Promethean boards with sound, and access to the Internet everywhere on campus, which to me is very important. The fact that we increased the graduation rates dramatically was also very significant. Lastly
The Prizes
we have gotten, like for example this one right here, which is the equivalent of the "Nobel Price" or "The Olympic Gold Medal" for a large district like Miami Dade – the 4th largest in the country – makes me very proud of the various initiatives that have recently taken place. I am very proud of the principals and the teachers that lead the way and students like you that has put Miami Dade at the very top.
The Kiddos Kid Reporter: What advice would you give parents to improve student home environments?
Superintendent Alberto Carvalho: You know, that is probably one of the most important questions we can ask because we can do everything right at school, but if the home learning environment is not there, if there isn't the parent or grandparent who provides some coaching, modeling, tutoring, or mentoring to children, then I think the whole child is not being educated. So how can we improve it? We have a remarkable initiative called "The Parent Academy." This is a school for parents that helps them to understand how to access resources in the school system, get better jobs by training themselves in vocational programs, and by helping them to really make decisions about issues that have impacted dramatically in the community like for example, how to open a checking account, how to plan for the future, how to secure scholarships for students by the time they graduate from High School, but also by connecting parents to resources that exist. They can actually help students do better in school, help with homework, dial the teacher, and access digital content on the computer to help students like you perfect reading, math, science or writing, so the whole learning environment is one that depends on the assistance that we as a system provide parents, but it also depends on parents showing up and doing their part in helping their children after the last bell in school.
The Kiddos Kid Reporter: Did you know you wanted to be an education activist since you were young?
Superintendent Alberto Carvalho: No, well actually when I was your age (9 years old) I was very poor and all I thought about were things such as: what am I going to eat? Where am I going to sleep? And do I get to actually finish school? So I wasn't really not contemplating education as a career, but the moment I came to this country I realized that education is very important in order to do the things you really want, accomplish things for others and for yourself. You really can't do it without education. I initially thought I was going to be a "Medical Doctor," but I like to talk and heal people more with ideas and words rather than with medicine. So I made a decision to begin teaching and I became a science teacher. I taught physics and chemistry as well as mathematics and then after that I felt, "you know, education really could improve and should improve quickly and rather than simply helping thirty or forty students in one classroom, let me try to help many more other students in a school and then if I help those students in an entire school, let me try to help now all students and teachers in an entire school system like Miami Dade." So that's how I went from being a poor kid who had no interest in education to somebody who believed he wanted to heal people with medicine to somebody who believes, as I do today, that he can actually help and heal more people through education.
The Kiddos Kid Reporter: What advice would you give children to be more productive at school?
Superintendent Alberto Carvalho:

 Be focused! I think today one of the biggest challenges that young people face are the distractions right? The TV is on, there are cellphones and ipads everywhere, streaming programing, texting and tweeting, instagraming and Vine, and then there are video games that are all consuming. I think so much of that space that we have to live is consumed by so much of that, which can incite us to forget to pay attention to the important things. Back in the day when I went to school there were no computers. Did you know that? There were no cellphones and my TV was a black and white tiny one, so you know what I did? I read books, as many books as I could possibly read. Today is different because you are born and are growing up in what they call a "hyperconnected era," because you are connected to your phone, to a computer at home that is connected to the Internet and you are always living a connected life. You access information, you play games and you do a lot of things via the Internet or your mobile phone. Isn't that true? Back in my day that didn't happen, so I was allowed to be more focused because the distractions were not as evident. Today it is a little bit different, so "focus" is important, respecting a teacher as somebody who is the ultimate "sage" to influence students, and respecting the value behind education and knowledge.
The Kiddos Kid Reporter: Can you describe Alberto Carvalho in 3 different words?
Superintendent Alberto Carvalho:

 Yes, I can because I have actually been described that way and I like it.  I think I have 3 dimensions. One I would say is: I take every opportunity to be a teacher; I have the ability to teach somebody something. Secondly, I take the opportunity to be a learner because you should never let an opportunity pass by to learn something. And third, sometimes I am a fighter because you want to fight for what is right, you want to fight for those who have weaknesses associated with them, and for those who are fragile and invisible. So I want to be a "teacher," a "learner," and a "fighter" for the good things to help human beings
For more information about The Kiddos Kid Reporter segment please email vlepere@kiddosmagazine.com
Credits:
The Kiddos Kid Reporter Clothing: 

Peek kids at Village of Miracle Park
Photography: Simply Chic Photography
Location: Miami Dade County Public Schools