Tomas Regalado Mayor of The City of Miami
Written by: Estefania Arosemena
As an exceptional journalist and former mayor of Miami, Tomas Regalado has been a key forerunner of the city by working to improve its services, education system, overall economy, and cultural scene.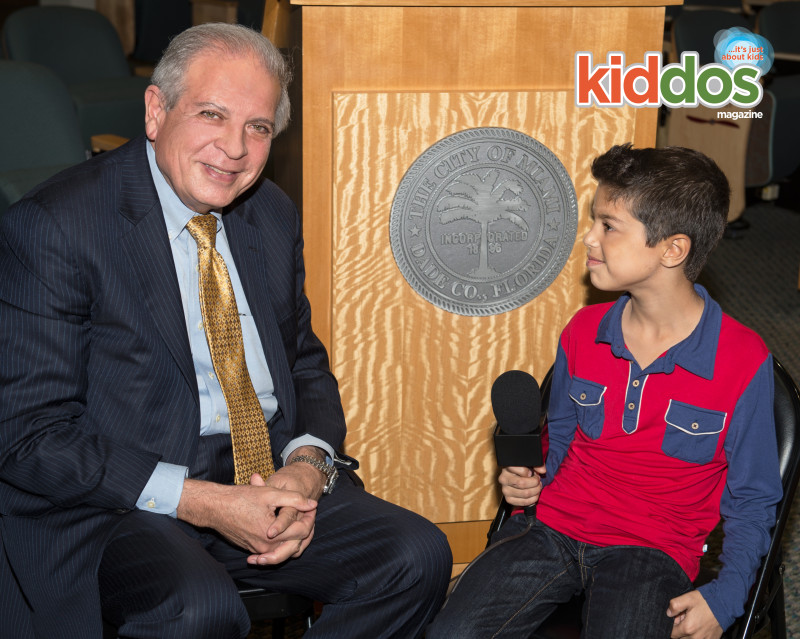 In these past years, Regalado has focused his political career on growing Miami's cultural reputation by helping the city to flourish as a center of cultural diversity, world-class events, and arts. Before becoming Miami's mayor in 2009, he had the opportunity to be City Commissioner as well as news reporter and Director for several Spanish broadcast networks including Univision, NBC, and Channel 23. A role model for many, Regalado advises all of our upcoming generations to study hard and understand that economic development is tied to education. He believes this is the best way in which our kiddos can work together to make a better city. "We begin this new term ensuring our children and grandchildren will have an international city whose priority is an ever increasing quality of life," said Regalado at the beginning of his new term two years ago. Today, the Kiddos Reporter had the pleasure to learn more about Mayor Tomas Regalado and his future projects for Miami.
The Kiddos Kid Reporter: What is the most important job you have done for the city of Miami?
Tomas Regalado:
As mayor of the city of Miami, the most important thing I believe I have done is to bring back the city from an economic crisis. In 2009, when I became mayor we had a huge deficit in the city and were facing the possibility of laying off many police officers, 

firefighters, and other workers of the city. However, I didn't want to do that and proposed to reduce the salaries and pensions of everyone to avoid having to fire any employees. These temporary reductions allowed the city to flourish and now be more economically sound. I am very happy because the city has come back; we have been able to give higher salaries to our employees and recently finished a contract with the Police Union to finance a raise. Also, we have been taking care of the residents by reducing taxes and attracting more people.

 
The Kiddos Kid Reporter: How can kids work together to make a better city?
Tomas Regalado: Well, I think that people see Miami as a place where there are great museums,
buildings, tunnels, galleries, and art, but I believe that a city is more about its residents "and, most importantly, its children." This is because the children will be the future residents of Miami and education is essential for them. We are very happy that the voters of Miami Dade County approved a bond issued to enhance and renovate all the schools in the city. Thus, now the schools in the city that were visually old and lacking technology have been renovated. Each kid now has a tablet, Wi-Fi, and better school facilities to elevate the level of education in Miami. So what can the children of Miami do for the city? Study, graduate and understand that economic development is tied to education. This will allow them to make a better salary, raise a family in a friendlier environment, and have a higher quality of life as the future professionals of the city.
The Kiddos Kid Reporter: Can you tell me about some of the future projects that would improve our city?
Tomas Regalado: One of the projects that is very dear to me consists of improving the public parks of the city. We recently had a grant from Coca-Cola Company to have a state of the art playground in one of the parks. The big news about this project is that it goes along with some technicians that Coca-Cola is going to be sending in order to train the children and the parents to do the right exercise and eat the right foods for an overall higher quality of life. Also, we will have in the parks after school programs for teenagers from 14 to 17 years old to prevent them from engaging in petty crimes and increase their level of education.
The Kiddos Kid Reporter: What's your favorite soccer team and soccer player?
Tomas Regalado: I really like soccer since I used to be a soccer father attending most of my son's games since he was a kid. One of my favorite teams is the Real Madrid and hopefully someday we will have a soccer team and stadium in Miami. We already have baseball, basketball, and football stadiums. So, my favorite team will be the "Miami Team" when we have it.
The Kiddos Kid Reporter: Can you describe Tomas Regalado in 3 different words?
Tomas Regalado: Father, grandfather, I love Miami.
About The Kiddos Kid Reporter
Kiddos Magazine introduces for the first time in our 2014 Back to School edition "The Kiddos Kid Reporter," a new segment in which our 10 year old reporter, Marco, interviews celebrities, educators, and inspirational artists and personalities who have strong impacts in our community and in our Kiddos' lives.
Credits:
The Kiddos Kid Reporter Haircut & Style: Lil'Jungle
Photography: Kathleen Ballard Photography
Video Production: Filmart TV
Location: Miami City Hall