If it's March… It's National Nutrition Month!
Written by: American Heart Association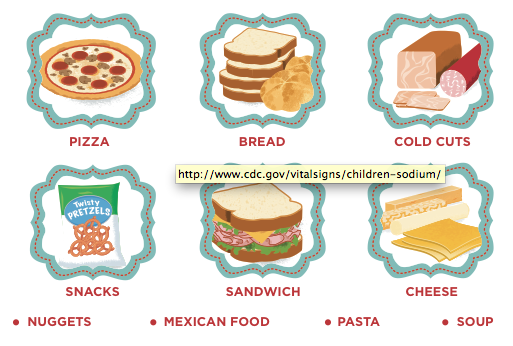 Most kids get too much salt, but as parents, you can help set them on a healthier path. Especially in kids, taste preferences for salt are shaped by what is offered to them. Kids may not prefer so much salt if they're given foods with less sodium from an early age. Too much sodium is linked to high blood pressure, a major risk factor for heart disease, stroke and several other serious health problems.
How much sodium should my kids get?
The American Heart Association recommends 1,500 mg of sodium a day for all Americans for ideal heart health.
How much sodium are children and youth in the U.S. eating?
On average, kids ages 2-19 eat more than 3,100 mg sodium per day, about double the amount the American Heart Association recommends. The older children get, the more calories and sodium they tend to eat.In the 2-19 year-old age group for boys and girls, boys ages 12-19 eat the most sodium — an average of 4,220 mg/day. Girls in the 12-19 year-old age group eat about 2,950 mg/day.
Where do kids get their sodium?
Children ages 6-18 get about 15 percent of their daily sodium at breakfast, 30 percent at lunch, 39 percent at dinner and 16 percent at snack time. Grocery store and restaurant foods make up 83 percent of the sodium these kids eat, which means it is already in their food before they buy it and they can't take it out. According to national data about Americans' eating habits, these foods are the leading contributors to the sodium 6-18 year-olds eat:
How can too much sodium hurt my child's health?
Kids with high-sodium diets are almost 40 percent more likely to have elevated blood pressure than kids with lower-sodium diets. High blood pressure in childhood is linked to early development of heart disease and risk for premature death, and unfortunately, the number of American children with high blood pressure is on the rise, and about 1 in 6 children ages 8-17 years already has raised blood pressure. Eating less sodium can help lower blood pressure in children and teens.
How can I help reduce the sodium my kids get?
Making sure your kids get less sodium today can help prevent heart disease tomorrow, especially for kids who are overweight and obese.
Here are more ideas for parents:
• Model healthy eating. Use the American Heart Association's diet and lifestyle recommendations as a guide.
• Involve your kids when you're preparing healthy meals. Try some of our kid-friendly recipes.
• Ask your grocery manager to offer your family's favorite foods inversions with less sodium.
• Before you go out to eat, look up nutrition information online to find the healthier choices.
• Support changes that will lead to healthier meals in child care centers and schools.
• Take the pledge to reduce the sodium you eat. Your healthy habits will likely influence your kids, too.