and Every Day with Morning Protein!
Bring a smile to your child's face with this charming twist on a breakfast standard. Simply make instant oats with familiar flavors – cinnamon, vanilla and brown sugar – and top the bowl with a friendly bunny face.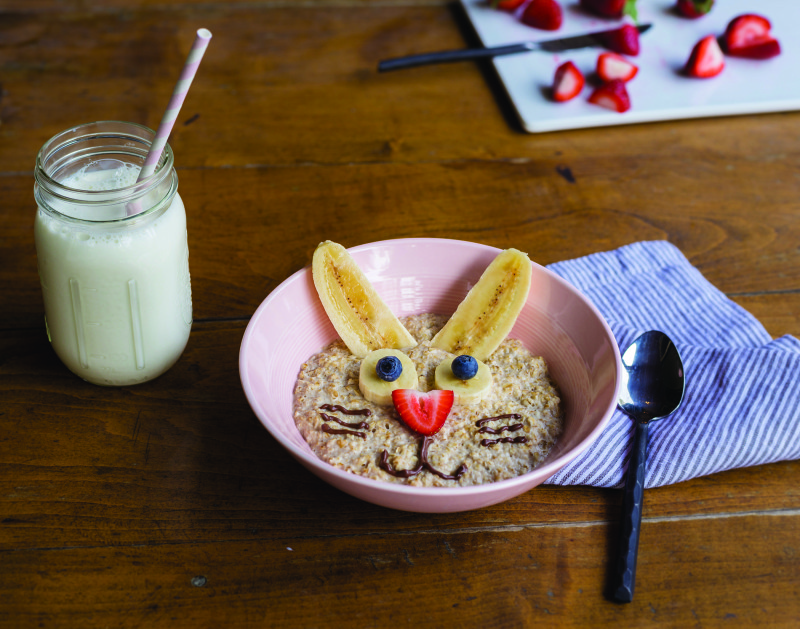 Families across America want to make sure that they're starting the day strong, and getting enough high-quality protein in the morning is a simple way to do so. A breakfast with protein is a great way to energize the morning, and adding it to your family's routine doesn't have to be complicated.   Bunny-Faced Microwave Oatmeal • 1/3 cup instant oats • 3/4 cup fat free milk • 1/4 teaspoon cinnamon • 1/4 teaspoon vanilla                 • 1 teaspoon brown sugar • 2/3 small banana • 2 fresh blueberries • 1/2 small strawberry chocolate syrup (optional)   In microwave-safe bowl, stir together oats, milk, cinnamon, vanilla and brown sugar. Microwave on high 30 seconds-1 minute and stir. Cut banana in half crosswise. Cut 1 1/8-inch thick coin slices from flat end of each banana half. Place slices in upper-third of oatmeal bowl, side-by-side, to make eyes. Top with 1 blueberry on each banana slice. Place remaining banana halves at the top of the bowl, hanging off edge, to create ears.   Place strawberry in the middle of the bowl to make the nose then drizzle chocolate, if desired, to make mouth and whiskers. Serve with 8-ounce glass of milk.   Nutritional information per serving: 320 calories; 2 g fat; 0 g saturated fat; 10 mg cholesterol; 18 g protein; 59 g carbohydrates; 5 g fiber; 190 mg sodium; 550 mg calcium (60% of daily value). Nutrition figures based on using fat free milk, and include an 8-ounce glass of milk.