Winds of Love
Feb./March 2018 edition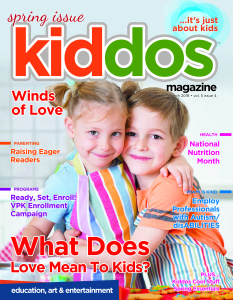 Hi Kiddos!
Kiddos Magazine loves encouraging and inspiring families to spend quality time together; cooking, reading, biking, playing and exploring the outdoors. In 2018 I am committed to keep focusing on values, bonding, healthy habits, kindness and the joy of helping others
We all talk about love, Valentine's Day, a "holiday" of love and friendship. This isn't a day just for couples and doesn't have to be all about hearts, flowers, and chocolates. It can be a time to bond with your kids and talk about what Love means for them.
This edition, inspiring the importance of love, Camille Lucy brings the best of our Kiddos hearts, featuring What Does Love Mean to Kids?
 March is National Nutrition Month! Let's learn to store food correctly to reduce waste and lower our grocery bill! Page 10.
 Are you looking for a high-quality preschool program for your child? M-DCPS Early Childhood Programs are committed to providing comprehensive services to prepare young children for life-long learning.  Find out more about programs options, enrolment dates, and how to apply. Page 21.
 Spring camp is around the corner! Kiddos Magazine is featuring a variety of spring & summer programs, I strongly encourage to talk with camp directors on preparing your child for an independent, fun-filled camp experience!
 Let's build strong relationships and happy hearts!
Happy Spring!
Feel free to email me with any comments and suggestions!
Veronica LepereKiddos Magazine's Publisher
vlepere@kiddosmagazine.com