Positioning is rooted in a commitment to the care and comfort of guests, drawing on Loews' dedication to intuitive service, authenticity, and familial hospitality
Loews Miami Beach Hotel confirms its commitment to making guests feel safe, protected, and cared for with "Welcoming You Like Family," a fresh brand position which defines Loews as more than simply a collection of hotels, but a brand deeply rooted in welcoming and caring for guests like family.
"Welcoming You Like Family" captures the powerful feeling of familiarity and comfort, which characterizes the Loews guest experience and is a philosophy that guides service and operations at Loews Miami Beach Hotel while uniting the 26 Loews hotels and resorts across North America. For a guest at Loews Miami Beach Hotel, this means experiencing intuitive service that meets their individual needs with a certain level of informality, just like family. And, for a Loew's team member, it means delivering personalized service and being empowered to go above and beyond to ensure each guest leaves feeling part of the Loews family, whether it is their first stay or their tenth.
"There couldn't be a better time to stand behind what makes Loews Miami Beach Hotel distinctive in the region, and we understand that currently, the future of travel is contingent on how our guests feel and are cared for," said Mutluhan Kucuk, Managing Director, Loews Miami Beach Hotel. "While important, guest comfort needs to go beyond communicating cleaning protocols and statistics. Our team members within the Loews Miami Beach Hotel family are well versed in finding opportunities to connect with and care for guests, even in our currently physically distanced environment. Through 'Welcoming You Like Family' we look forward to serving our guests and each other thoughtfully and intuitively, just like family."
   
Loews is further defining its positioning through a revision of messaging across the brand website, digital advertising, within the hotel guest experience, and via earned media channels, as well as through a refreshed visual identity. Additionally, "Welcoming You Like Family" will become the name of Loews Miami Beach Hotel's new and enhanced protocols and standards. On the property, the new positioning is further reflected as part of the "new normal" with thoughtful signage, touchpoints, and services which guide guests safely, and comfortably, throughout their stay. For example, in order to support physical distancing without sacrificing human connection at the hotel, Chat Your Service is a hotel-wide texting service that makes it easy for guests to request whatever they might need during their stay. Whether a guest needs a restaurant reservation, the AC turned up, or extra hangers, they can be in touch with a team member immediately via text.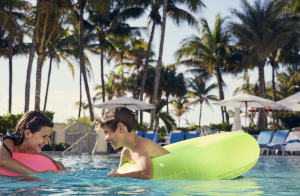 To jumpstart travel and experience "Welcoming You Like Family," Loews Miami Beach Hotel invites travelers to book their next getaway with the More Space for Less offer, which features* 50% off a second room when booking two or more rooms.
For additional information or to make a reservation at Loews Miami Beach Hotel, please call 305-604-1601, toll-free 800-23-LOEWS, or visit www.loewshotels.com/miami
-beach