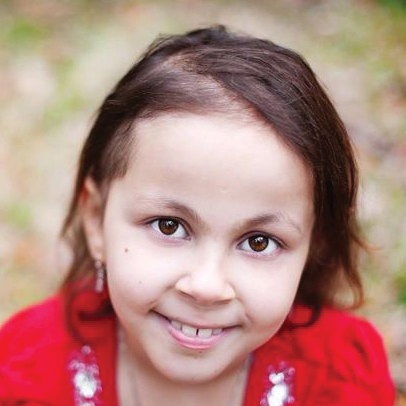 Her exemplary faith, strength and courage, no matter the difficulties, were some of the countless values   of Bella Rodriguez-Torres who passed away last May of 2013. In 2007, this  10-year old cancer fighter was diagnosed with stage four, group for alveolar rhabdomyosarcoma, a cancerous tumor of the muscles that are attached to the bones. This is the most common soft tissue tumor in children and gives the patient only a few months to live. Amazingly, Bella regained the ability to walk, run and jump and lived almost six more years. She never gave up and never feared anything she had to   undergo.
Before Bella was first diagnosed with cancer, she became paralyzed overnight. She had the main tumor in the spine, which was the cause of the sudden paralysis. She additionally had 9 other tumors in her body. "Nothing can prepare a parent for that," said Bella's mother Shannah Rodriguez-Torres. She knew it was just the beginning of a long battle with cancer where she had to be her child's primary advocate.
Many errors are often committed under the best circumstances. For this reason, Bella's parents advice other parents going through similar situations to educate themselves, be cooperative, and understand that as parents they are vital members of the medical team caring for their child. "Do your best to build a bond with your doctors and nurses even if it means biting your tongue at times. Be a cheerleader for your child to keep the rest of the medical team engaged and thinking of the next step ahead," said Shannah.
Even after bearing long rounds of chemo and radiation treatments, Bella was always grateful for her life and looked forward to fun adventures. In her short life, she inspired thousands of people across the globe to be thankful for their health and all that they are blessed with. Thanks to the support and generosity of the community, the Live Like Bella™ Foundation was initiated whose purpose is to seek out innovative, non-toxic treatments and bring them to light.
Throughout her illness, Bella also tried to raise awareness for other children in her situation. She started a campaign for fun Band-Aids for sick children with her mother in October 2012. The cause started when Bella requested an "Angry Birds" Band-Aid instead of a normal band-aid. "Something so simple as a child's Band-Aid can brighten a child's day. "In the midst of something so challenging, something so simple," said Bella's father Raymond Rodriguez-Torres.
Fortunately, Bella was able to enjoy two years before her cancer re-appeared. During these years she took the time to enjoy fun activities with her family such as swimming, going to the zoo and visiting Disney World. Bella always focused on enjoying the moment and living her life to the fullest! When her cancer came back in 2009, it came much stronger and the malignant growth did not respond favorably to chemo treatments. She went through a 16-hour surgery to remove the tumors, her uterus and her ovaries.
Despite major efforts to treat her cancer, Bella's organs began to fail and in May of 2013 her parents made the difficult decision to stop putting her through these painful treatments. Bella passed away a few days later, but will always be remembered for her courage, positive attitude and love for others. She is a perfect example for people all over the world to enjoy every moment as it is and be grateful for the gift of life.
"Live Like Bella means to eat something and enjoy it, savor it, go play with gusto, even the simple things. Do them and enjoy them. Learn something new, get out of your comfort zone and enjoy life," Bella's godfather Ralph told Kiddos Magazine.
Written by: Estefania Arosemena