We spoke with Lissette Gonzalez, CBS4 Meteorologist and Mother of 2, about balancing work and family, spring traditions and how she's handling today's current crisis.
On Mother's Day, we celebrate and honor the women with the toughest job out there: motherhood. Mothers have profound influence over their families and society as a whole. Their contributions are far-reaching, and Lissette Gonzalez is no stranger to the acronym MOM: Master of Multitasking.
Written by: Camille Lucy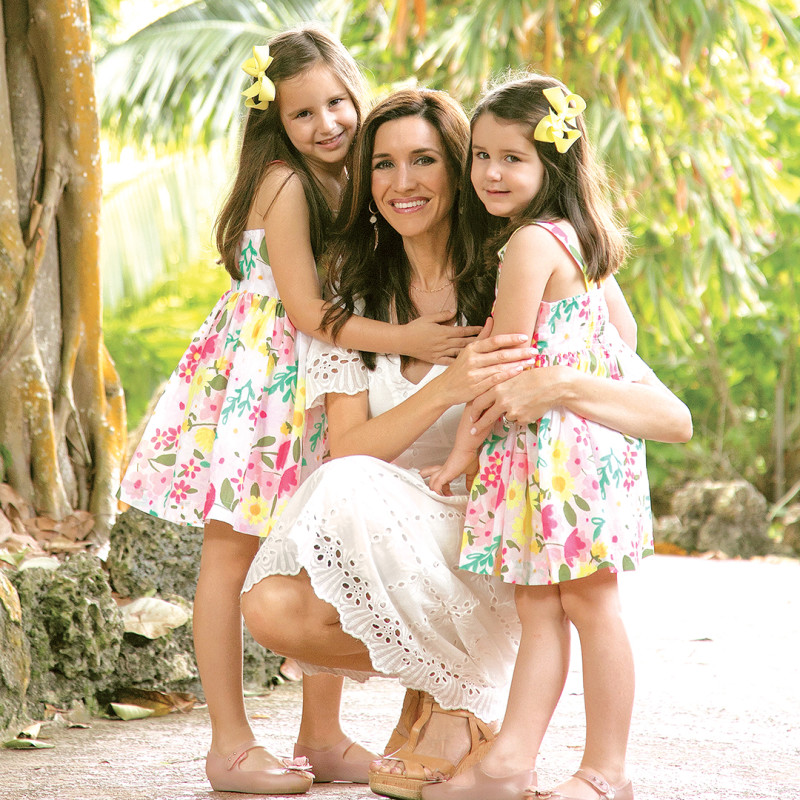 When asked how she is coping with today's current crisis, Lissette said, "As we all make an effort to slow the spread of the Coronavirus and stay safe at home during this difficult time, we are adapting to many unexpected changes.  This is our "new normal" and we are just trying to take it day by day."  She said she will be forecasting the weather from home soon, and has been learning new technology to keep her up to date with her daughter's distance learning.
Lissette added, "I'm encouraging the girls to stay creative with arts and crafts. They are able to sing, dance and learn about music thanks to the online classes provided by South Florida Music. And we try to keep them active by doing online yoga classes, going out for walks around the block or just running around in the backyard. I sat down with the girls to create hearts to express appreciation for the medical health professionals and first responders on the front lines. And they created hearts for all the other heroes who are working hard to make sure everyone is safe. We hope and pray this will pass soon.  But while we are at home, we will try and make the most of our time together as a family."
As an ambitious and hard-working woman balancing career and motherhood, what would you say is your driving force or the #1 thing that motivates you?
My family is the main driving force behind everything that I do. My parents, my husband and my daughters inspire me every day. My parents have always motivated me to study and work hard. They have sacrificed so much so that I could pursue my dreams and become the woman I am today. They have always been supportive and served as role models. And now I feel blessed to have my husband Tony by my side. He is my soul mate and partner in life. He is the most loving, caring and supportive husband and father. Teamwork makes the dream work. And we are truly a team when it comes to raising our girls. Sofia and Elise motivate us to be the best parents that we can be and do whatever it takes to provide for them and be there for our family. And as a mother I want to pass along the same values, principles and work ethic my parents passed along to me.
Out of all of your accomplishments, which are many, which is the most meaningful to you and why? 
I'm so grateful for many goals that I have achieved in my life including serving as Miss Florida, performing Off-Broadway, signing a record deal and serving as a Meteorologist in my hometown since 2007. And I'm thankful for many awards and accolades I've received through the years.  But no title or recognition can compare to the greatest job of all…motherhood. Becoming a mom to my two precious girls Sofia and Elise is by far the most meaningful and fulfilling accomplishment. My daughters have brought me the greatest joy and pride. There are no words to describe how much I love them. I am already so proud of the sweet, thoughtful and bright little ladies they are. They both have big hearts. They are growing up so quickly and it is fun to see the world through their eyes. And we've only just begun. I hope to inspire them and set them on the right path towards becoming strong, passionate and successful women.
  
Do you have any tradition(s) your family participates in during Spring, or for Easter or Mother's Day?
We love to color and decorate Easter eggs. It is one of our favorite things to do during the Spring as we get closer to the Easter holiday.
What would your best advice be to mothers who are balancing career and family? 
Balancing career and family can be challenging. Once I wake up at 3am for work the marathon begins. I always give it my all when I'm at the station because I want to do the best job possible forecasting the weather for South Florida. And I give it my all at home because I strive to do the best job as a mom and wife. When I pick up the girls from school I try to be as fully present as possible to make the most of my time with them. We play, I help them with their homework, we go for walks, I take them to dance and music class, we read books and the list goes on. Every day is action packed but I wouldn't have it any other way because I want to be as involved as possible. I feel it is important to be there for our kids every day and during those very special occasions. Birthdays, field trips, performances, graduations and special school events are precious moments that will only come around once during their childhood. I remember my mother was always there for me and I want to be there for my girls too. I'm very thankful my managers are very understanding of when there is a special event and I need to be there for my daughters. I feel it is important to set priorities and set aside the time for those little and big moments, because family should always come first.
Camille Lucy is a Certified Holistic Health Coach/Reiki & Raindrop Technique Practitioner/Meditation & Yoga Instructor, Ordained Holistic Minister, graphic and web designer, business consultant, and animal rescue volunteer/advocate. She is also a writer, a Mother of 3 girls, an artist, a Life-and-Love Junkie, a Self-Expression and Development advocate, and – well, you get the point – she's a lot of things, just like all of us. Camille is also author of, "The (Real) Love Experiment: Explore Love, Relationships & The Self," and owner of the inspirational clothing line, LIT Gear, at www.LetsAllGetLit.com. Learn more about her and her adventure(s) at 

www.CamilleLucy.com

.