CGSCIC a safe and fun summer lifetime experience for youth ages 6 to 17
Source: CGSCIC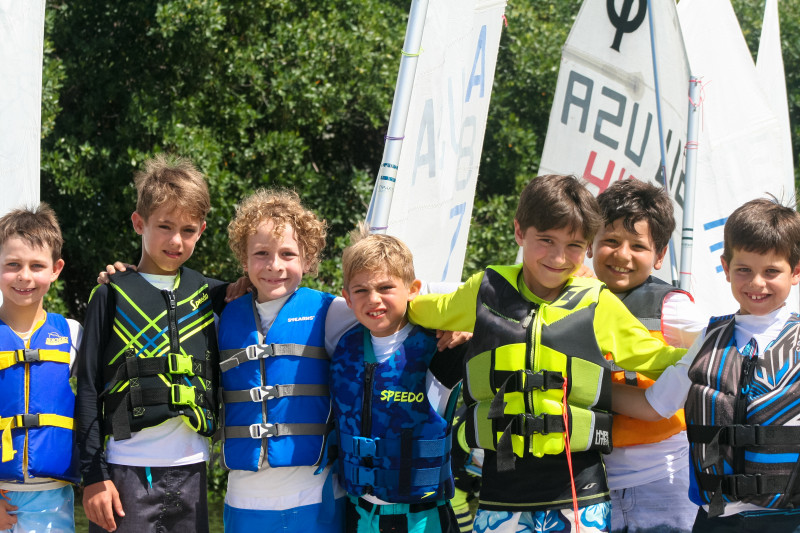 The Coconut Grove Sailing Club Instructional Center is pleased to offer Summer Youth Sailing Instruction and Camp for both sailing CGSC members
and non-members. Student sailors will be classified as either beginner, intermediate, advanced or racing level. A US Sailing certified instructor and several junior instructors supervise the classes. Campers must be between the ages of 6 to 17 years old. Sailing Camp runs weekdays from 9:00 am to 4:00 pm and is held rain or shine.   Sailing is an incredible experience that has lifelong value and rewards for kids. Consider sailing lessons and camps as you plan your child's summer activities.   What will my child learn? Beginners will learn basic sailing skills, knots, nomenclature, and safety. By the end of the course, be-ginning sailors will be able to single- hand a pram boat, know the names of all parts of the boat, and know what to do if the boat capsizes. Intermediate and advance sailors will learn more advanced tech- niques, racing rules, and explore further into Biscayne Bay.   Boats Summer Campers will be sailing in our Club Prams, Optimist and Laser Picos. These single-handed and double- handed boats are used for pleasure sailing as well as com- petition. Sailing small boats is an incredible way to learn sailing, teaching students independence and creating a stronger, more individual character while learning a new sport and building camaraderie with fellow sailors. Most important, being responsible for your own boat teaches lessons that stay with kids forever.   Life jackets All Summer Sailing Campers must bring their own Type 3 Coast Guard approved life jacket and wear them at all times. Parents are encouraged to provide a comfortable life jacket that fits well the duration of sailing and dock exposure.   Clothing, lunches, and water Campers should be bringing their
own lunch/refillable water bottle. Campers should wear bathing suits each day under their clothing. Don't forget the sunscreen, hats, towel, water shoes, change of clothes and a Type 3 life jacket (personal Floatation Device – PFD).   CGSCIC camp is geared toward beginning to intermediate level sailors ages 6-17 using our fleet of Optimists, Sail Cubes, Lasers and FJ's. Children ages 6-17 with no experience are all welcome to join us as long as they are able to swim. A simple swim test is given on the first day of camp. Children are then divided into groups by age, size and experience.   CGSCIC offer several different dates to accommodate your family's summer schedule. Children in our program learn to sail in a fun, safe environment. They learn sailing terminology, develop wind awareness, and learn to sail a basic course. More advanced sailors have the opportunity to take part in one of our racing groups.   How to Register Registrations can be completed online at cgscic.org/summercamp Applicants are accepted on a first come – first serve basis. Please remember that registrations are not complete until paid in full through Paypal.     Summer Camp – 2 weeks session • Session 1- June 12 – 23                         • Session 2 June 26 – July 7 • Session 3 July 10 – 21 • Session 4 July 24 – August 4 • Session 5 August 7 – August 18   Club Members $500 Non-Members $600  

CGSCIC is a non-profit organization that support the sport of sailing and encourage sailing instruction at all levels. Additional goals are to help encourage new sailors, to help sustain Coconut Grove's sailing tradition and to provide sailing lessons and instructional opportunities for people of all ages.