Summer Camp Guide Presented by
The Real Food Academy
Please feel free to reach out directly to the summer camp directors for more information and registrations.
The Real Food Academy Summer Camp
June 5 to August 15
Hours: 9:00 a.m. – 3:00 p.m.
Tel.: 786.395.0355
Location:
570 NE 81st Street, Miami, FL 33138
At our kid's cooking summer camp in Miami, we teach your children to eat healthy, develop or hone their cooking skills, experiment in the kitchen, improve math and reading skills … all in a fun way, while expanding their culinary palate. Some of the activities included in our exclusive and one of a kind kids' cooking summer camp include Cooking, Baking, Arts & Crafts and much more. Our Kids Spring Camp is a weekly program for ages 5 to 16. Campers are grouped by age.
NNNNNNNNNNNNNNNNNNNnNNNN
Junior Dolphins Summer Camp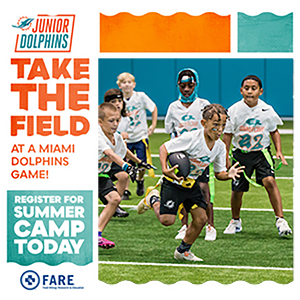 June 12 to August 10
Hours: 9:00 a.m. – 4:00 p.m.
Tel. 305.943.7272
Locations:
June: Baptist Health Training Complex 20000 NW 27th Ave, Miami Gardens, FL 33056
August: David Posnack JCC 5850 S Pine Island Rd, Davie, FL 33328
www.miamidolphins.leagueapps.com/camps
JRD Summer Camp allows boys and girls to spend the summer training like their favorite Dolphins players. This four-day camp allows athletes of all levels to strengthen their football skills.
NNNNNNNNNNNNNNNNNNNNN
Miami International Riding Camp
Full Summer-9 Weeks
Hours: 9:00 a.m. – 3:00 p.m.
Tel. 305.775.9155
Location:
22620 SW 134th Ave. Miami, FL 33170
Offers a full day equestrian program for kids (ages 6-14) with interest in English Horseback Riding. Camp includes riding lessons, horsemanship, and lessons about nature and horse care. Fun activities include playing games on and with horses, horse related crafts, other outdoor games,and much more! Reserve your spot today by the day, week, month or full summer!