2021 Kiddos Summer Camps Guide!

Looking for a great summer camp program for your kiddos?
The right Summer Camp will provide your Kiddos lifelong memories and skills. A place where boys and girls will learn to be independent, about teamwork, values, and of course they will enjoy an unforgettable summer full of action, camp experience, fun, and new summer friends!
The Summer Camp programs featured in our guide are following state and local health protocols to ensure your child and camper's safety. Please feel free to reach out directly to the summer camp directors for more information and registrations. There are still amazing opportunities for our Kiddos to grow and learn this summer with in-person and virtual camps.
Summer Camp at Frost Science
In-Person & Virtual Camp

There are now two cool ways to spend the summer with the Phillip and Patricia Frost Museum of Science: in-person camp or virtual camp! From June 8 through August 14, children ages 4-14 will explore the wonders of science through weeklong camps themed around engineering, marine sciences, astronomy, and technology. The safety and health of campers and staff is always the highest priority at Frost Science camp. Space is limited, so reserve your spot today.
Tel. 305.434.9564
camp@frostscience.org


www.frostscience.org/camps/


Location: 1101 Biscayne Blvd. Miami, FL. 33132
Camp J Miami Summer Camp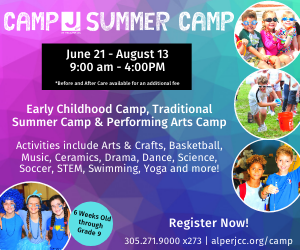 Camp J Miami introduces your child to new experiences while building confidence in a fun and safe environment. Traditional Summer Camp and Performing Arts Camp are available. Campers enjoy age appropriate activities like sports, art, STEM, swim, music and more. Our 23-acre campus has something for everyone. Inclusive camp program. All are welcome. June 21-August 13.
The Real Food Academy Summer Camp
9:00 am – 3:00 pm
The Best Cooking Summer Camp in Miami! Join us this summer in our ESPECTACULAR new location. This is the best, most experienced, and most trusted Cooking Camp in Miami. Your child/ren (ages 7-16) will be grouped together working with those only in their own age group. They will learn cooking fundamentals and dive into the world of healthy cuisine. You can expect your child's eating habits to improve as they learn the difference between REAL and Processed foods! They will have a blast participating in Food Challenge Competitions! This camp is LIFE CHANGING! Don't wait because this camp will sell out. Seats are limited. Offered Mon-Fri from 9-3 pm.
Tel. 786.395.0355
Location: 570 NE 81st Street • Miami, FL 33138
Dance Empire Summer Camp
In-Person & Virtual Camp

Now registering for classes and summer camp! Dance Empire's mission to train dancers of all ages in an environment where they are given the opportunity to grow and excel in their dance education. We strive to deliver the highest quality of dance instruction while nurturing each student's unique gift of talent and creativity.
Tel. 305.232.5573
Location: 8853 SW 132 St, Miami, FL 33176
Carrollton Summer Programs 2021
9:00 am – 3:00 pm
Three two-week sessions
Session 1: June 21 – July 2
Session 2: July 6 – July 16
Session 3: July 19 – July 30
For Girls and Boys. Summer at Camp Carrollton is a fun-filled, engaging summer program located on the beautiful campus of Carrollton School of the Sacred Heart in Coconut Grove, Florida. Camp also include half or full-day offerings paired up with mornings of specialty camps in either tennis, science, or other fun activities. Aftercare is offered weekly to create an extended day.
Tel. 305.446.5673​ ​ext.​ ​2340
Location: 3747​ ​Main​ ​Highway, Miami,​ ​FL​ ​33133