Looking for a great summer camp program for your kiddos?
The right Summer Camp will provide your Kiddos lifelong memories and skills. A place where boys and girls will learn to be independent, about teamwork, values and of course they will enjoy an unforgettable summer full of action, camp experience, fun, and new summer friends!
 2019 Kiddos Coolest Summer Camps!

Frost Science Summer Camp
June 17 – August 9, 2019
9:00 am – 3:00 pm

Explore the wonders of science through eight different week-long camps themed around the amazing science showcased at the Phillip and Patricia Frost Museum of Science in Downtown Miami, including engineering, astronomy, marine biology, and technology. Fly a drone over South Florida's unique ecosystems, dissect a squid, create your very own comet and learn how to make a human lie detector test during this unforgettable summer of science. Each week of camp will include a Frost Planetarium show and free exploration time around the museum.
Summer Theatre Academy at  the University of  Miami

The Summer Theatre Academy at the University of Miami promises six weeks of fun and learning! Your child will gain valuable theatre skills, confidence, self-esteem, and a love of creativity, through theatre games and acting exercises led by our well-trained, caring staff. Each group of students receives specialized training for their age group.
 305.284.4474
sta@miami.edu
www.as.miami.edu/sta
Location: 1231 Dickinson Dr.
Coral Gables, FL. 33146
Register here!
Miami Children's Museum Summertime Tinkers
For children Pre-k (4) – 5th Grade
Activate your creativity this summer at Miami Children's Museum with hands-on learning and experiences. Each week campers will grab their tools, tinker, explore,
Coconut Grove Sailing Club Instructional Center
Spring & Summer Camp
Ages 6 to 17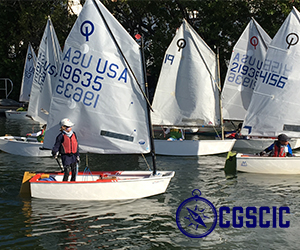 Coconut Grove Sailing Club Summer Camp is geared toward beginner to intermediate level sailors ages 6-17 using our fleet of Optimists, SailCubes, Laser Picos and FJ's. Children in our program learn how to rig & launch a boat, basic knots, sailing terminology, develop wind awareness, and learn to sail a race course, all in a fun and safe environment.
305.444.4571 ext. 18 
info@cgscic.org
www.cgsc.org
Location: 2990 S. Bayshore Drive
Coconut Grove, FL 33133


Register here!
Dance Empire Summer Camp
All ages
 
Now registering for classes and summer camp! Dance Empire's mission to train dancers of all ages in an environment where they are given the opportunity to grow and excel in their dance education. We strive to deliver the highest quality of dance instruction while nurturing each student's unique gift of talent and creativity.
305.232.5573
Location: 8853 SW 132 St, Miami, FL 33176
Camp J Summer Camp

Camp J Miami introduces your child to new experiences while building confidence in a fun and safe environment. June 17 – Aug. 9, weekly options available. General Camp & Specialty Camps incl' Sports, Performing Arts, Tennis & Robotics. Campers enjoy age-appropriate activities like sports, art, swim instruction, field trips and more.  Our 23-acre campus has something for everyone. Fully inclusive camp program. All are welcome!  
305.271.9000 ext. 271
Camp@alperjcc.org
Location: 
11155 SW 112 Ave., Miami, FL 33176
Summer @ Gulliver
 
Gulliver's highly-acclaimed Summer Programs are back! Camp Gulliver offers games on the field and in the pool, arts and crafts, lunch, songs and cheers, and group time to build spirit and make friends. Prep Summer Studies offers students from all schools entering grades 9-12 a variety of electives and honors-level courses.
• Jump Start (beginning at 3 years old)
• Broadway at Gulliver
• Engineering Camps
• Lower/MS Academics
• Athletic Camps (Baseball, Basketball, Flag Football, Soccer, Softball, Volleyball, Water Polo)
305.666.6593 ext. 3327
chae@gulliverschools.org
Location: 12595 Red Road, Coral Gables, FL 33156
Fantasy Theatre Factory Theatre Art Summer Camp
Fantasy Theatre Factory is thrilled to present the most spectacular summer camp in Miami-Dade County! Our exciting new program includes immersive courses, professional performances and a camper showcase at the Sandrell Rivers Theater! Our campers are exposed to top-notch artists and instructors who teach them about performance exercises, dancing techniques, diverse cultures, music genres and more.
305.284.8800 ext. 463
evelyn@ftfshows.com
Location: 6103 NW 7th Avenue, Miami, Fl. 33127
Miami Kiteboarding Summer Camp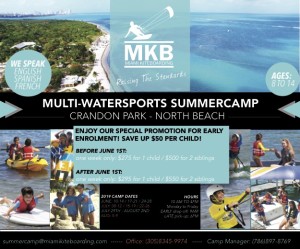 Since 2010, Miami Kiteboarding has been offering watersports summer camps to kids from 6 to 14.  Kids experience the fun of a lifetime in our natural park preserve, Crandon Park. Kids of all ages have a summer splash while learning about the environment, the ecosystem as well as ocean conservation. They enhance their coordination and therefore self-confidence both in and out of the water.  
786.897.8769 
Christophe Ribot: General Manager chris@miamikiteboarding.com 
miamikiteboarding.com/summercamp/ 
Location:
Crandon Park, North Beach, Miami Kiteboarding Concession.
6767 Crandon Blvd, Key Biscayne, FL 33149 (500 feet south of the nature center) 
Register Here!
 Viva el Español Spanish Immersion Summer Camp
At Viva el Español, campers can experience the joy of learning a foreign language in a professional and nurturing environment. Activities include drama, culture, arts & crafts, guided conversation, pair work activities, language games & loads of other activities. Campers, 3-6 & 7-9 are grouped based on age and level of linguistic competence.
305.666.6609
robertogiuffredi@

cs.c

om
vivaelespanol.com


Location: 5275 Sunset Drive Coral Gables, FL. 33143
R

egister here!