Friday 24
Overnight Adventure: Blast from the Past
Frost Science Museum
101 Biscayne Blvd. Miami, FL 33132
Just in time for back to school, let's go back in time! This night at the museum is all about dinosaurs. Throughout the evening, you'll visit our Feathers to the Stars exhibition, meet our extinct friend Bazil, the Yutyrannus, and learn how dinosaurs were the beginning of some animals still alive today!
You'll also have an animal encounter with an alligator, make your own take-home fossils while learning how fossils form, enjoy a journey into the past with rooftop stargazing** and a late-night viewing of Asteroids: Mission Extreme.
Overnight Adventures cost $80 per person (whether adult or child). Dinner and breakfast are included in the cost.
Member Discount: Members will receive 10% off participation fee for this Overnight Adventure on Friday, August 24 program as a Back to School special rate promotion.
Member must be logged in to receive discount. Discount is only applicable to those listed on the membership. All members must have a valid membership card and show a photo ID upon entrance. Accounts with guest privileges will be allowed the appropriate number of guests to receive the discount but must be purchased by the membership cardholder.
Parking will be available from 5:45 p.m. to 8:15 a.m. for a $10 flat rate. Registration closes August 21, 2018. For more information, click here or email overnights@frostscience.org.
*Please note: adults may not attend unless accompanied by youth participants. 
** Rooftop stargazing is weather permitting.
Saturday 4th
Kiddos Magazine Back to School + 5th Anniversary Event!
The Falls at 8888 SW 136th St, Miami, FL 33176
From: 11:00 p.m. – 5:00 p.m.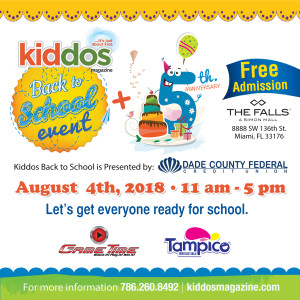 Kiddos Back-to-School & 5th Anniversary event brings more than 3,000 attendees, one-day filled with arts and craft activities, face painting, balloon artist, science and art projects, safety, storytelling, sports demonstrations, dance, shows, characters, food, goodie bags, music, raffles and much more! Featuring over 50 exhibitors that will offer the latest in products and entertainment for kids, pre-teens, and parents just in time for Back-to-School and Tax-Free weekend!
Kiddos 2018 Annual Back-to-School is presented by Dade County Federal Credit Union featuring "Saving is Fun" Arts & Craft Station, and fun and interactive kids areas and activities for families and their kids are Presented by GameTime Featuring Back to School "Scavenger Hunt" and "Game Faces Ready!" Presented by Tampico. We have still sponsorships opportunities if you are interested.
Speakers will include Miami-Dade Commissioner Daniela Levine Cava, School Board Member Dr. Larry Feldman and Miami Dade School Police Chief Edwin Lopez
Free admission
Saturday 4th
7th Annual Breastfeeding Awareness Walk & Big Latch On
Tropical Park Stadium 7900 Bird Road  Miami, FL 33155
9:00 am – 2:00 pm
The Florida Department of Health in Miami-Dade County WIC Program and Healthy Start Coalition of Miami-Dade invite you to the 7th Annual Breastfeeding Awareness Walk & Big Latch On on August 4, 2018, at the Tropical Park Stadium. A FREE fun family event to raise awareness on the importance of breastfeeding support, promotion and education! Great entertainment and activities for the whole family including workshops, Zumba, kid zone with water slides, Storytime, glitter tattoos, face painting and much more. ALL FOR FREE! Open to all.
Free admission

Saturday 1st
Storytelling Dining with Etikat By Andrea Valfre
Books & Books
265 Aragon Ave., Coral Gables 33134
From: 11:00 am
Its time for etiquette! Bring your kids to meet author Andrea Valfre when presenting her children's books Dining With Etikat: An Adventure in Awesome Table Manners! Is a one of a kind, interactive guide that teaches essential social skills and is loaded with practical tips, trivia and self-guiding visuals. Young readers enjoy learning etiquette with a feisty feline called, Etikat.
Free admission
Saturday 8th
The Children's Trust Family Expo
Miami-Dade Fair & Expo Center
From: 10:00 am – 5:00 pm
The Children's Trust Family Expo is a daylong festival. The event features activities and entertainment for the entire family in an effort to provide parents with direct contact with health and social services, as well as educational opportunities. Face painters, clowns, stilt walkers, magicians, storytellers, arts and crafts, bounce houses, rock climbing walls, music and dance performances and much more!
Free admission
 Saturday 8th
#ArtsLaunch2018
Adrienne Arsht Center for the Performing Arts
1300 Biscayne Blvd, Miami, Florida 33132
This is Miami's biggest annual event celebrating and kicking off the Arts Season—and it's FREE! Join us for a day of fun and discovery: family activities, mini-performances, a community village of more than 100 arts & cultural organizations, chef demonstrations, food*, live bands, DJs and more. Plus – the majority of the Arsht Center's season will go on sale for individual show tickets for the first time—and if you purchase in person at the box office, we'll waive our ticket handling fees!**
Free admission
Boss Mom Mercado 
Dadeland Mall
7535 N. Kendall Drive, Miami, Florida 33156
10:00 am to 6:00 pm

An innovative platform that fosters connections and encourages workforce development so working moms can thrive – will be taking over @ShopDadeland Fashion Wing & hosting a "mompreneur" competition to kick-off the holiday shopping season.
#BossMomMercado is an exclusive pop-up marketplace, in partnership with @Shopify, that will showcase 20 mother-owned businesses, creative hands-on workshops, family-friendly activities, giveaways and more.
This one-day experience will take place on September 8th from 10 am to 6 pm and shopping opportunities will range from home decor to children's wear to wellness. In addition to scoring unique gifts, attendees will also be supporting these female business owners with every purchase. During the event, Boss Mom Mercado shoppers and attendees will be able to vote towards the Best Boss Mom Business to win the Pop Up Shop at Dadeland Mall + Complete POS System by Shopify.
Save the date and come to support your favorite Mother Owned Businesses!
September 22– October 31
Screamin' Green Hauntoween at Crayola Experience
Screamin' Green Hauntoween is back September 22– October 31, and it's bigger and more colorful than ever! Get ready to get ZOMBIFIED with all-new monster-ific crafts and special, spooky happenings all month long, including weekend dance parties, a themed scavenger hunt, a live slime-themed show and SLIME TIME, an ooey-gooey class that's fun for the whole family!* Plus trick-or-treating every weekend, all while exploring 26 exciting hands-on attractions. There is so much to "BOO", you may never want to leave. ALL included with general admission! Check more details on Crayola Experience's Events page at 
www.crayolaexperience.com/orlando/plan-your-visit
*additional fee applies

Saturday 21
Try BMX Racing For Free
Miami South BMX 13050 SW 216 St. Miami Fl. 33170 From 11 a.m. to 2 p.m.  
  Come experience with us, one of the most exciting families oriented sports around! We guaranteed you would love it! Bring a long sleeve shirt, long pants, and any bike helmet and the most importantly you bike! For more information call 305.258.9442. miamisouthbmx.com      
Saturday, April 21 – Saturday, May 27
Family Film Matinees at MDC's Tower Theater!
Home Team (Mi Mundial)
 Tower Theater Miami 1508 SW 8th St, Miami, FL 33135  
 

Kiddos Magazine

is a proud Media Sponsor of all HOME TEAM Screenings:   Saturday, April 21 (2:00 pm)
Sunday, April 29 (2:30 pm)
Saturday, May 5 (2:30 pm)
Sunday, May 13 (2:30 pm)
Saturday, May 19 (2:30 pm)
Sunday, May 27 (2:30 pm)   The HOME TEAM Screenings will have family-friendly pricing and will be jam-packed with extra goodies and fun, including: -Special Family Pricing ($8 for adults, $6 for kids, $22 for a Family of 4 package) -Free Mini Soccer Balls or Doughnuts (courtesy of Velvet Creme!) to the first 20 kids to arrive with the purchase of a ticket. -Kids can participate in a miniature soccer game after the film inside the theater! - Panini World Cup Albums and Stickers will be on sale at concession ($2, $1 respectively) starting April 20! - Kiddos Magazine activation, raffles, fun and much more!  

CLICK HERE FOR TRAILER

 

BUY TICKETS HERE

  Based on the Latin American best-seller by former fútbolista Daniel Baldi, Uruguayan director Carlos Andrés Morelli's feature debut follows an adolescent soccer prodigy poised for big-league success—so long as his hubris doesn't get in his way. Everyone knows Tito is a whiz on the field, but his father insists he places equal emphasis on his studies. That balance topples, however, once an agent pegs Tito as a major talent and convinces the family to uproot from their rural Nogales home and relocate to Montevideo. Will Tito fulfill his dream? Or will his focus on fútbol to the detriment of everything sabotage his goals? Fueled by big-hearted performances—especially from Néstor Guzzini, star of MFF '13 selection So Much Water—Home Team is a cautionary tale that understands both the thrill of the game and the importance of seeing life's big picture.   For more information visit www.towertheatermiami.com  
Saturday 21
Earth Day at The Wynwood Yard
56 NW 29th St. Miami, F. 33127 From 11 a.m. – 4 p.m.   Come hang with us for a fun afternoon of activities, education, workshops, movement and music as we celebrate our mother… Mother Earth! This event was created is to elevate consciousness, raise awareness, and educate our community about green initiatives and how each person can reduce their carbon footprint and make a positive impact, locally and globally. Free event thewynwoodyard.com    
Sunday 22
AIDS Walk Miami
Soundscape Park in Miami Beach
Donate to Support your Family and Friends, Start a team, Join a Team or simply register as an Individual or Sleep Walker.Join thousands on Sunday, April 22nd as we kick off the 30th Anniversary of AIDS Walk Miami, a 5K walk-a-thon fundraiser through the picturesque streets of South Beach benefiting over 15,000 individuals living in our Miami-Dade and Broward Communities who have been affected by or infected with HIV/AIDS.The event continues to be Miami's largest HIV/AIDS awareness fundraiser and continues to attract thousands of participants who walk for different reasons, but walk together for one common cause: to support Care Resource and Food For Life Network food bank and its work to prevent new infections, maximize the health outcomes of those infected, and to end the epidemic here in South FloridaFor more information visit www.aidswalkmiami.org  
Wednesday 25

Amigos For Kids "There's NO Excuse For Child Abuse!"
Blue Ribbon Awareness Walk & Candlelight Vigil
Jose Marti Park 362 Southwest 4th St. Miami, FL 33130 From 6 p.m. Amigos For Kids invite you to participate in their annual Blue Ribbon Awareness Walk and Candlelight Vigil. Join us in support of healthy child development, strengthening families and in memory of the victims of child abuse. For more information call 305.279.155 amigosforkids.org  
Saturday 28
Family Bite Night
  May 1 to 31 Inventors in Residence Lab – Science of the Rescue Frost Science Museum 1101 Biscayne Blvd. Miami, FL 33132 Open daily from 11 a.m. – 3 p.m.   Get a behind-the-scenes look at how science takes on the challenges of the 21st century inside the Inventors in Residence Lab. Winning scientific teams work in public facing labs and interact with museum guests, discussing why their work matters, their progress and what hurdles lie ahead.  frostscience.org       Saturday 5 Susan G. Komen Faces of a Warrior
The Falls Center Court 8888 SW 136th St. Miami Fl. 33176 From 3 p.m. to 5 p.m.  In conjunction with the Susan G. Komen Foundation, join us as we celebrate the many Faces of a Warrior. We will celebrate and honor survivors, fashion show, demonstrations, and more!  shopthefalls.com      
Saturday 5
Fit Kids Day Laser Tag
Evelyn Greer Park 8200 SW 124th St. Pinecrest Fl. 33156 From 10 a.m. to 2 p.m.   
   "Fit Kids Day" an event that promotes fitness and healthy eating for youth. Come with the whole family. Outdoor laser tag battles, games every 15 minutes. Register online pinecrest-fl.gov/parks or call 305.284.0900            
Saturday 2nd
Bunny's Pet Expo
The Falls Center Court 8888 SW 136th St. Miami Fl. 33176 From 11 a.m. to 5 p.m.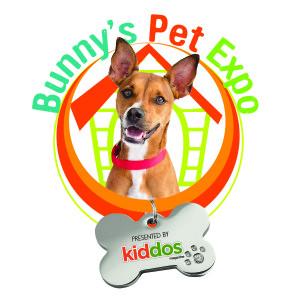 A family-friendly event for pet lovers! Bunny's Pet Expo is the perfect avenue to find pet accessories, clothes, toys & supplies, veterinarians, trainers, groomers, food, organic treats & supplements, first aids, adoptions & rescue shelters, healthcare, and pet insurance. Entertainment for the whole family, Kids Zone, Doggie Fun Zone, and much more!   Be Seen. Be Involved. Be Connected.

We are excited to invite you to participate and be part of this amazing family-friendly event, to showcase your products and connect with pet and animal lovers! Bunny's Pet Expo is free and open to the public. Free parking at the mall. 

 

*Pets are welcome! 

Pets must be current on all age-appropriate shots, vaccinations, and records in order to attend. *Rules applies, visit www.kiddosmagazine.com for more details.

For more information visit kiddosmagazine.com or call 786.260.8492

Free admission and free parking

 

 

 
Calendar Submissions
Submit your event information for Kiddos calendar to info@kiddosmagazine.com Include event name, location, address, date and time, cost, a brief description, contact, and image. Events will be listed based on availability and have to be kids and family related.