If you are looking for a one of a kind gift that will bring lots of holiday cheer and memories for years to come, you have to stop by the Shops at Sunset Place and visit a brand new store called Peekolos – Life in Miniatures.
Peekolos is a full-service 3D portrait studio, where you can create a miniature replica of yourself and your loved ones, including your pets.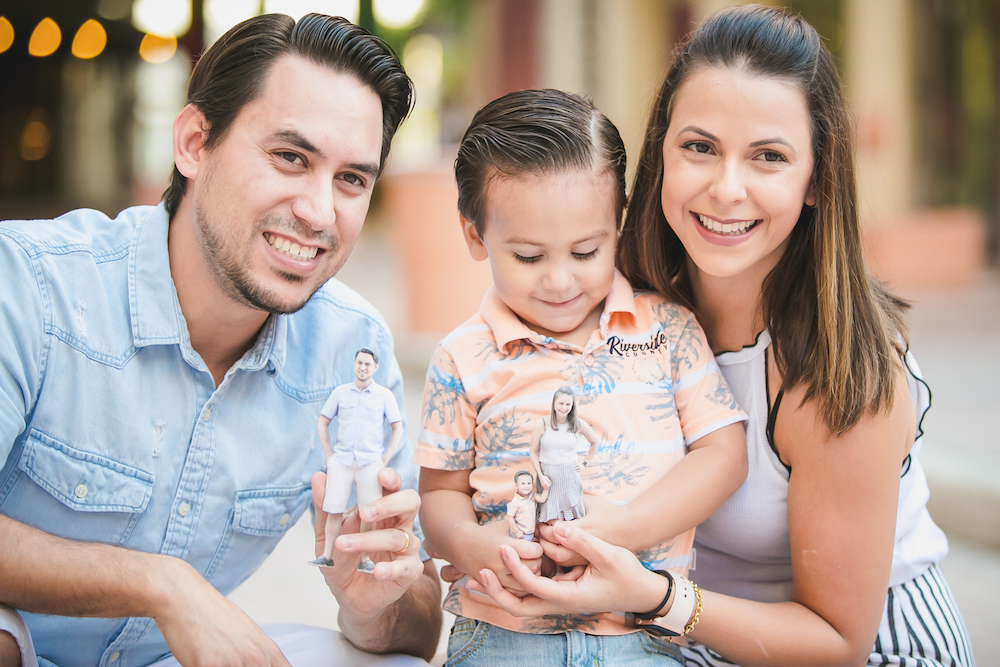 The studio is equipped with a state-of-the-art photo booth, where 64 high-definition cameras shoot simultaneously, capturing images from all angles. The 2D photos are then transformed into a 3D file and sent to a 3D printer that builds the figurines by releasing ink with a binding agent over thousands of layers of a sandstone material. The final result is mind-blowing: a mini you! You can display your Peekolos at your home, office, birthday cake, gift it to family and friends, or simply retell your story through a collection of your own life in miniature.     The founder of Peekolos, Mariana, is a former local teacher and mother of three boys, who started experimenting with 3D designing and printing with the intention of developing educational toys. Once she met this massive printer that could actually print people, she fell in love with the idea of preserving families by capturing their lives, freezing time, and eternalizing their most cherished moments. Who doesn't love looking back at old photo albums and re-living those memorable days? Well, this new technology brings those memories to life and makes them even more tangible and real! You can actually touch and hold those special people in your life.
All Peekolos are the perfect memento to celebrate life, family, and love.  
The store offers a variety of sizes and packages for groups and families, as well as gift certificates. They can also turn your miniatures into beautiful ornaments, an awesome idea for an original and very personable gift! This Holiday Season, surprise your loved ones with their very own Peekolos 3D figurine. This unique gift will surely bring warmth to their hearts!      
 Peekolos is located at
The Shops at Sunset Place, 5701 Sunset Drive, Suite 178 South Miami, FL 33143.
For more information visit peekolos.com or call 305.458.4651
IG and FB @peekolos